We have spent a lot of time on the PC for both working and relaxing. Sitting in an incorrect posture for a long time can negatively affect your health and physical appearance. Choosing chairs with ergonomic standards, such as gaming chairs, will completely solve all of these issues. Not everyone knows how to choose the best and most suitable gaming chairs. This post will cover different factors which can help you make a good choice.
WHO NEEDS A GAMING CHAIR?
Gaming chairs are specialized chairs designed for gamers. With a gaming chair, they can sit comfortably for hours, which can help them enjoy the game perfectly. This chair also protects them from some health problems.
Unlike the name, gaming chairs are used not only for gamers, YouTubers, streamers but also for those who work with the computer for a long time. For those who have back pain or want to sit comfortably, this chair would be a wise choice as well.
4 THINGS TO CONSIDER WHEN BUYING A GAMING CHAIR
Nowadays, gaming chairs are becoming more and more popular and widely used for different purposes. The quality of gaming chairs is also upgraded to satisfy users' demands. To choose the most suitable gaming chair for you, here are 4 things to consider: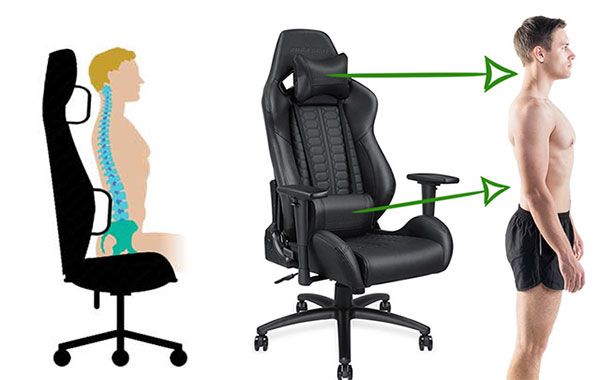 Ergonomic Design is the first thing that you should consider when buying a gaming chair. The ergonomic chair is user-friendly and its surroundings optimize work performance, maintain proper posture, reduce back pain, neck pain, and improve blood circulation.
In addition to the basic function of sitting to work and study. The Ergonomic chair also has integrated features as:
Height-Adjustable

Adjustable headrest and armrest

Lumbar support

Tilt lock

Quality casters

Back angle adjustment

Waterfall design seat edge

360-degree swivel

Breathable mesh material
These are advanced ergonomic features, but they are most likely to be found on high-end gaming chairs. You may have to make some concessions on them depending on your budget.
Material is one of the most important factors in determining the comfort of sitting in front of a computer for extended periods. At the moment, a high-quality gaming chair is made of PU leather. If you don't know it, PU leather is one of the premium leathers commonly used in our daily life, especially in the fashion field. PU leather is used in the production of gaming chairs because it is as soft and stable as the real one, and can be cleaned easily.
You should choose a gaming chair that was built to last, such as a monolithic frame. If purchasing a low-price gaming chair, maybe you can save some money, but it could be out of order in a few weeks.
Dimensions and Weight Capacity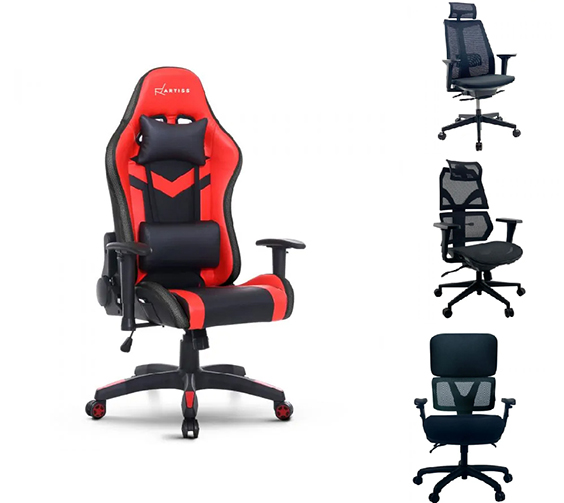 These are two important factors when buying a gaming chair, but buyers often overlook them. There are different types of gaming chairs. You should choose which one will be suitable for your space, weight, and height.
On the market, the standard gaming chairs can support a weight of about 250 pounds. The heavy-duty gaming chair can withstand more than 500 pounds.
Price is also a factor that can show a product's quality. There are more and more brands of gaming chairs on the market. Gaming chair brands run promotions to increase competitiveness and attract customers. This will help you have more choices.
If you are on a tight budget, you can refer to the gaming chairs that cost approx 400$, such as ACE Pro Mesh Handwheel Adjustable Gaming Chair, MACRO X Mesh Pro Gaming Chair Adjustable PU Armrests,...
If you have a good budget, you could buy high-end gaming chairs along with advanced features, such as Artiss Gaming Office Chair RGB LED Lights Computer Home Work Desk Chair, SPIRIT Mesh Black Fabric Seat Best Gaming Chair,...
WHY SHOULD YOU CHOOSE UNIX GAMING CHAIRS?
Unix Solutions provides a variety of gaming chairs suitable for all customer's demands.
Unix gaming chair is the top choice because:
AFRDI-Tested and Certified

Ergonomic Design

Maintain proper posture

Support up to 350 pounds (160kg)

Long-lasting

Cost and Quality go hand in hand

Fast Delivery

Warranty up to 15 years
If you need advice, please contact us at [email protected] or chat with our live agents!